After a longer idle time I decided to reactivate this blog. In this article the topic is the waste heat of servers and how it can be used.
Since the past years the quantity of servers increased due to the increasing amount of data, cloud computing and the increasing use of devices like laptops, tables and mobile phones. These data has to be stored on servers. As servers need to be accessible 24/7 the power consumption is high. According to Reuters the global emission of CO2 of server rooms exceeds the global emissions of the airline industry, which is about 650 Millionen tonnes.
One problem of the servers is the heat production. According to the company Walter Meyer the life span of servers will decrease to the half if the ambient temperature is increased by 10°C.
Currently companies deal with these facts to install cooling sytems in these rooms for servers. (In my current position I see that several companies set the cooling sytem to an ambient temperature of 20°C. This temperature can be increased to 23°C, which could save 18% of the electricity needed for the cooling system as 1°C increase of the temperature can save up to 6% of the electricity).
As the installation of the cooling system is wasting energy (independently of the set ambient temperature) people thought about how this energy could be used more efficiently. Some companies already exist which improve the energy efficiency by using the waste heat of server to heat up offices and houses.
A dutch company already launched a test which in which homeowners can reduce their energy bill by using a server. Currently they plan to put the waste heat sytem in 42 homes where the heat will be used to help the heat up the water the residents use.
Another company from Germany uses the excess heat as well to support the centralized heating system. In this process the heated water is further heated up with a air-water heat pump to heat up the water. This is further used for heating purposes. The process is illustrated in the picture.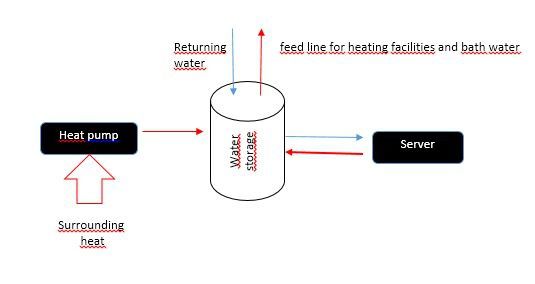 It is a great idea to increase the energy efficiency by using the heat which is produced anyway. As the cooling facilities are not necessary anymore the savings will come come on one hand from the saved (fossil) fuel not used for heating up the water and on second hand by not having to use the cooling faclilities anymore.

Sources:
- http://www.waltermeier.com/de/waerme-klima-service/klima/serverraum-kuehlung/
- https://www.rt.com/viral/390728-dutch-households-free-hot-water-servers/
- https://www.cloudandheat.com/de/technology.html
- http://www.trendsderzukunft.de/luftfahrt-lufthansa-experimentiert-mit-biokerosin/2015/04/29/
Um über die neuesten Artikel informiert zu werden, abonnieren: