This post is about a panel which combines the photovoltaic and the solar thermal technique. Normally owners of a house had to decide how they want to use their roof, either of putting solar cells onto it or installing a solar thermal energy system on it. As the new product called 2power has the advantage of combining both systems efficiently together this is not necessary anymore.
As photovoltaic cells can heat up to 80°C, which decrease the efficiency of it heavily, it would be a great idea to use this heat to e.g. support the heating system of a house or produce hot water with it. In the system designed by the company 2power it is done by the special structure of the cell. Here the first layer are the normal photovoltaic cells. Behind this is the fluid, which cools down the photovoltaic cell. The fluid is a based on water with frost protection. An insulation after this fluid layer makes sure that the most of the heat is staying in the fluid layer and can be transported from this liquid. The following illustration explains the structure,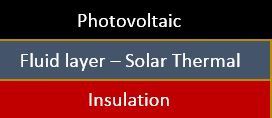 This system is already installed in more than 400 houses. A great feature is that 2power can be combined with a electricity storage and a heat storage. Furthermore it can be linked to a smart home installation.
The company is located in Germany but the system of 2power was already e.g. installed on a hotel in Brazil recently.
Sources:
- http://www.2power-hybrid.com/de

Um über die neuesten Artikel informiert zu werden, abonnieren: