This post deals with a similar technique described for in my blog some time ago for storing electricity. It deals with an under water storage, in which water is stored in a balloon of concrete. It is an investigation project in which the Fraunhofer Institut in Germany participates - it is called Stensea.
What can countries without big mountains and dams do to harness the potential energy from the water? The idea is to use the empty space in a sphere. When water flows into the sphere a turbine is used to produce electricity. When there is surplus of electricity availiable it is used to pump the water out of the concrete sphere so it can be used for energy production again.
The principle is shown in the following picture: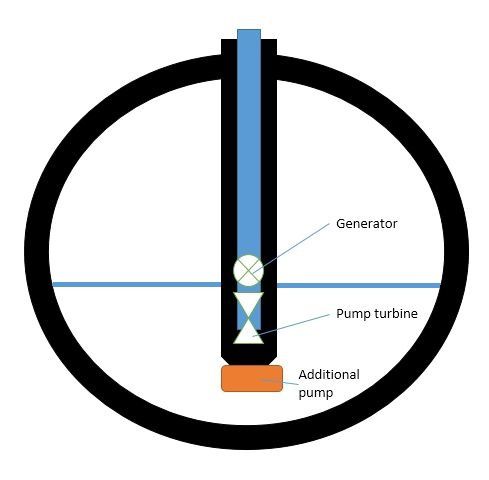 The idea is to use up to 200 types like this concrete balloon to save electricity which was produced by offshore windfarms. According to the officials the most economic size of one balloon is that it can save up to 20 MWh.
In the Stansea project the test balloon was put into the Lake Constance in the South of Germany into 100 m depth and was 3 meter wide.
With the findings this system should be installed before Norway in a depth around 600 - 800 meter
Sources:
- http://forschung-energiespeicher.info/projektschau/gesamtliste/projekt-einzelansicht/95/Kugelpumpspeicher_unter_Wasser/
- https://www.energiesystemtechnik.iwes.fraunhofer.de/de/projekte/suche/laufende/stensea-storing-energy-at-sea.html
- http://www.3sat.de/mediathek/?mode=play&obj=64190 (Video in German without subtitles)
- http://www.ingenieur.de/Themen/Energiespeicher/Betonkugel-Stromspeicher-im-Bodensee-versenkt
-https://spectrum.ieee.org/energy/renewables/4-new-ways-to-store-renewable-energy-with-water
Um über die neuesten Artikel informiert zu werden, abonnieren: