In this post a technology will be described how solar panels can produce energy at night. The technology was developed between the DLR (Deutsches Zentrum für Luft- und Raumfahrt) and the Linde AG. It uses energy storages which based on phase changing materials.
To store energy over night is not a new technology as it is around for many years. But this technology uses phase changing materials in the materials for storing the energy over night. It is based on direct expansion as it is more efficient compared to use a solar liquid, The parabolic mirrors heat up the water around 550°C. When the system produces more electricity then needed then there are three storage facitlites available, which are connected. The three storages differentiate by which salt is used. Nearly all energy which is in the steam can be saved this way. At night or when it is cloudy the salt cools gives back its energy to the water. In the three it storage facilites it is heated up with this system to the 550°C again. This steam is used in a generator to produce electricity.
The following picture illustrates the technology: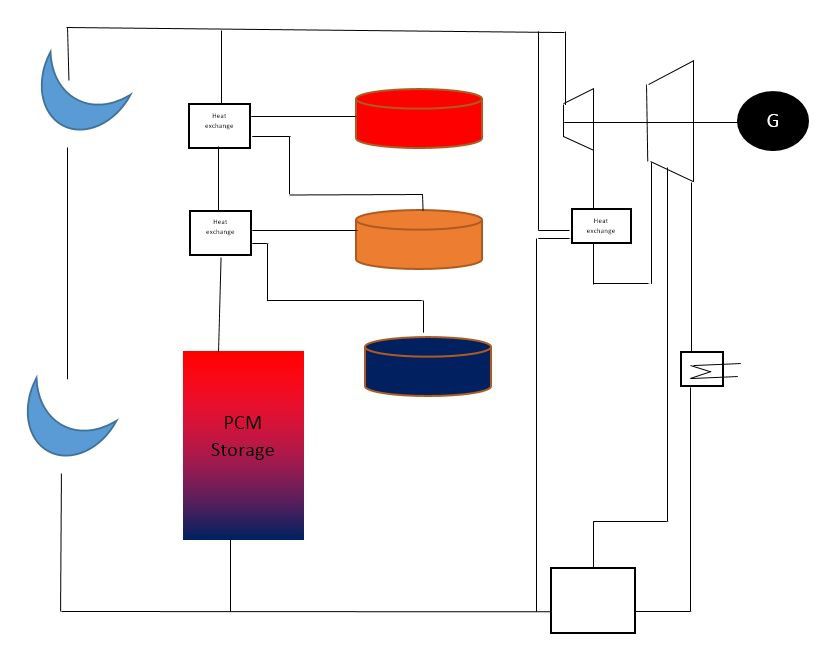 Experts think that this system is the most economic and technological feasible solution.
Sources:
- http://www.bine.info/publikationen/publikation/nachtstrom-aus-dem-solarkraftwerk/
Um über die neuesten Artikel informiert zu werden, abonnieren: