In this post a technique will be described which I came across recently. This technology was developed in Germany, Berlin. With this technology the windows of the homes will function as a heating device. As this device can be controlled via mobile phone this technique could take part in the world of the smart homes.
In total there are two gaps in the window. The inner side of the outter widow has an insulation and a heat saving part. The middle part of the window can optionally be tainted so that the sun can not pass through. In addition there is another area for the heat saving area. Finally at the inner part of the window there is the LCO layer, which is responsible for heating up the rooms.
The picture illustrates the layers: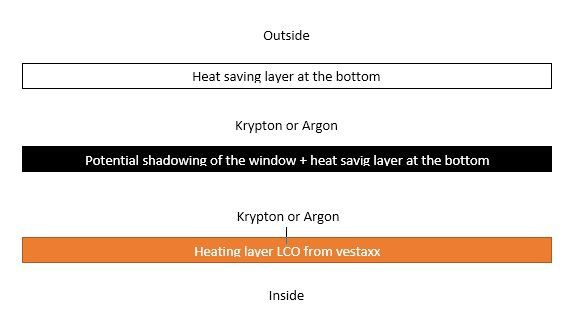 In addition to these layers the window has a control device for opening the window. If someone opens the window the heating device is shut down for energy saving reasons..
On the websites the producer claims that the inestment costs are 85% lower than the investment in a heat pump and 50% lower than a conventional heat pump.
Interested people can currently subscribe at the homepage for the product launch,
Sources:
- http://vestaxx.de
- http://vestaxx.de/wp-content/uploads/2016/03/Vestaxx_Faltblatt_Web_110316.pdf
Um über die neuesten Artikel informiert zu werden, abonnieren: