In this post a technology will be described which can be used to save energy. As there are times when e.g. windfarms produce so much energy that the grid can not take the load the energy need to be saved somewhere (or the windfarm has to stop producing electricity - but that should not be an option as everyone wants to have green power).
The technique described in this post is one opportunity to store electricity and heat. The main process is that the load of electricity is used to produce compressed air in compressors. This air is stored under water in bags, the pressure here is the same like that produced by the compressors. These bags are used normally to put wrecks back to the surface.
When there is the need for the air in the grid the compressed air can be used to produce electricity again using turbines.
The following picture illustrates the process: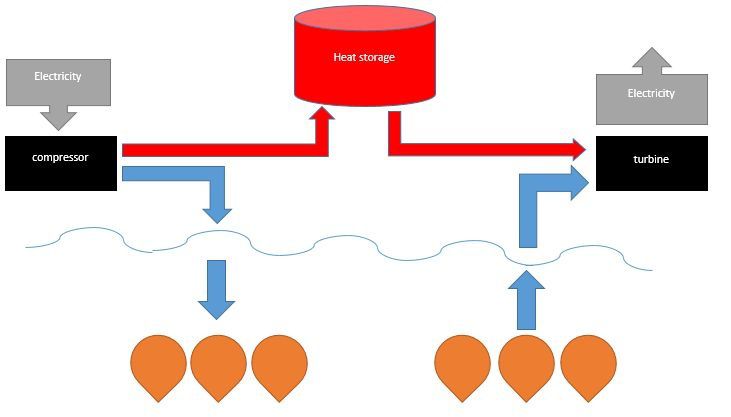 One of the main companies in this area is the company called Hydrostor in Canada. In 2015 they already tried this system and found it feasible. As there are no moving parts the maintenance cost are very small. The ballons can be transfered to the surface to make annual inspections.
In the process of compressing the air heat is produced. Hydrostor has produced a system where the heat is transferred to the air stream and stored at the production process. Therefore using this process there will be no CO2 emissions produced.
The power that can be produced with the described facility is around 660 kW. Currently the company Hydrostor has contracted a storage capacity of 6 MWh
Similar technics were developed using a cavern for storage. The process is the same, the heat and compressed air are pumped in the cavern instead of the ballon. After that storage the process of the production of electricity is the same.
Sources:
- https://www.youtube.com/watch?v=GicQwXbNnv0
- https://cleantechnica.com/2015/11/25/underwater-balloons-store-energy-canadian-project/
- https://hydrostor.ca/
Um über die neuesten Artikel informiert zu werden, abonnieren: